Halloween Music '09
Sidedown and I now present you with....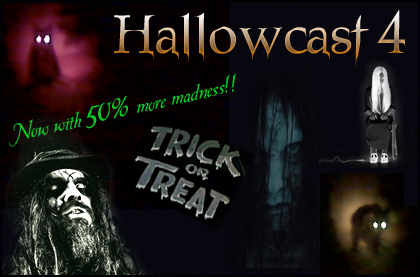 Downcast Epside No.109: Jeff LaSala's Hallowcast 4
Go to the Downcast site to play it right off the page. Or subscribe to the Downcast podcast and snatch the mp3 for yourself in iTunes.
Hallowcast 4 is 45 minutes of Halloween-themed music blended together in one big horrible admixture, woven with little movie clips and other goodies. I promise you, you'll never hear Mel Tormé and Rob Zombie in the same podcast ever again.
The only warning I'll give you is:
You better not have weights tied to your feet.
And...if you missed them, I've also curated the previous three Halloween episodes of Downcast. Grab 'em (right click and Save As) or just play 'em below. We're talking a total of 2.7 hours of excellent scary music, probably a good 60% of which you've never heard. Take advantage!
Downcast Episode 69: Hallowcast 1
Downcast Episode 70: Hallowcast 2
Downcast Episode 94: Hallowcast 3
posted on 10.12.2009
Comments