Countdown to All Hallow's Eve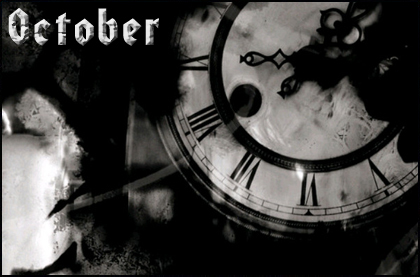 The month of Halloween is here at last—and anyone who's even a semi-regular to this website probably knows that Halloween is not a single day event for my wife and me.
October is the twilight of the year, appropriately cooler and darker but also colorful and vibrant for all that. It was 51° outside this morning, which is just about right. Yay for long sleeves again!
This has been the most turbulent of years. It didn't start that way, but I've already witnessed enough grief and hard times, mostly for friends mine, but things haven't been the easiest on us either.
A lot's going to happen this month: some good, some bad, some necessary. Both my in-laws are having surgery done (necessary), and the last vestiges of some unpleasantness from the summer must be dealt with (bad).
But among the good:
And after a long string of obstacles, I'll be back working on my Savant project again. You can expect the next entry of Savant Scrawlings soon.
Marisa and I will be taking our annual October pilgrimage to Salem, MA in just over a week, this time with my parents in tow. I'm very excited about that.
My seemingly annual installment of the Sidedown podcast (Downcast) will appear in a week or so. Hallowcast 4!
Also, in honor of Halloween, every single day this month I will post up at least one photo appropriate to this time of year in this Facebook album, which I've made public.
My heart goes out to Max, who continues his fight, and to Andy (aka Beezer), a friend and someone seriously undeserving of what he's going through. Prayers would be appreciated for both.
Happy October!
posted on 09.30.2009
Comments