Unforgettable
This coming Wednesday, I'll have the pleasure of seeing U2 live at the Meadowlands (NJ) with my wife and with my parents.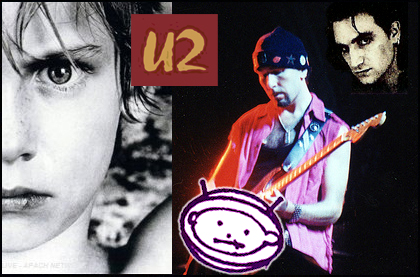 The only rock concert I've been to with both my mother and father was for America (the "Horse With No Name" band), and the last time I saw U2 my wife had selflessly given up her ticket so my dad could join me. So I'm really looking forward to going with all three of them.
I consider myself late in becoming a U2 fan. Not until Achtung Baby came out (1991) did they hit my radar—notably with "One." Although Rush has always been the best band in the universe to me, for a good 2 or 3 years starting at age 16 they took a backseat to U2 in sheer air time.
Much of this is nostalgia. Achtung Baby, Boy, War, The Unforgettable Fire, and The Joshua Tree are irrevocably linked to my memories of living in Newport, Rhode Island when I was a sophomore in high school, while most of the rest filled in the rest of my high school years nicely. There was a time when I sought out every b-side and single and bootleg I could get my hands on. And not just U2. I'd chase down things like Bono's version of the Leonard Cohen song "Halleluliah" or the soundtrack to the obscure movie The Captive because the Edge was involved.
In high school, and with Josh Wentz's musical accompaniment, I even sang a couple of U2 songs for some talent shows—like, in front of a full auditorium. Looking back, I absolutely cannot believe I did that. My memory of the experience is probably way better than the reality of it, but I'm still rather glad I dared. We did "October" and "Running to Stand Still."
While I don't seek out each song with Gollum-like obsession anymore, I'm still a big fan. I saw U2 on their Popmart tour (from very far away in a stadium with terrible acoustics) and then again on the Vertigo tour at Madison Square Garden (a very memorable show). And after subjecting my father to U2 for many years, somewhere along the way, Bono took hold. And now I'm proud to say that he (my father, not Bono) is a rabid fan, too.
Everyone knows the big hits: "Where the Streets Have No Name," "With or Without You," "Mysterious Ways," "Pride (In the Name of Love", and so on... But I'd like to share some of the aforementioned obscurities or at least lesser-knowns.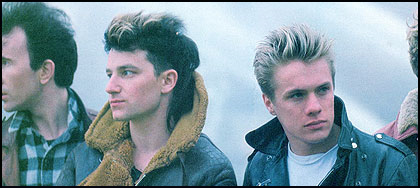 "Rowena's Theme" (from The Captive soundtrack, by the Edge)
"Drowning Man" (from War)
If I'm able to snap some pictures at the concert, you can expect them to appear here. You ever been to a U2 show?
posted on 09.22.2009
Comments