Breaking the Chains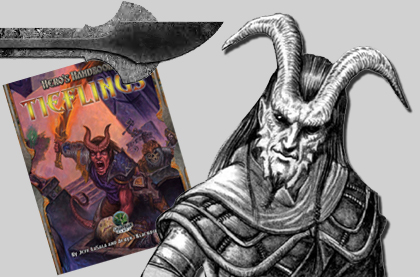 In stores now, as previously mentioned, is the Hero's Handbook: Tieflings, which I co-authored with Aeryn Rudel (and even had some help from my brother). I wanted to talk a little bit about this book because from the outset it presented a strange admixture of ideas in me.
Tieflings first appeared in the Planescape setting back in the 2nd Edition of the D&D game; they were essentially humans with demonic, devilish, or some other sort of fiendish ancestry. In their 4th Edition incarnation, tieflings are the descendants of humans who made bargains with devils (specifically) and in time begot a new race (complete with horns, tails, and and all-around diabolical appearance). In D&D, devils and demons are not synonymous as they usually are in real-world religion or mythology. In D&D, devils are soul-craving corrupters, denizens of the Nine Hells who garnish their evil with a kind of infernal law (as opposed to chaos).
For me (and I do indeed speak only for myself), the first challenges in writing an entire book dedicated to tieflings and the devils that influence them is the fact that (1) as a Christian, I do believe in a real devil (or something very like it) and (2) since the early 80s, D&D has been fallaciously accused of involving devil worship and other occult involvement. As a longtime player of the game, I know this to be a ridiculously stupid notion, but when you want to defend the truth of the game, are you really helping dispel the idea by putting out a book about devils? Well, the way I see it, there's no harm in broaching the subject itself. Just do it right.
First things first. You want to separate reality from fiction. Tieflings, and the specific devils discussed in this book, are pure fiction. But that doesn't mean there aren't some comparisons to be made to reality.
A lot of books out there like to glorify the bad guys. It's even become trendy to do so in some areas of fantasy fiction. Many people seem to be sick of the good guys always winning and the bad guys always being soundly defeated. I think that's a little bit sad. Not that fiction shouldn't get a breath of fresh air, or have morals realistically blurred (as they are in real life)—see Eberron for some good examples of this—but the trend of wanting to see the villains win is a little disheartening.
In light of this, in the Hero's Handbook: Tieflings, I wanted to polarize tieflings and devils a little bit more. Devils are unquestionably evil, interested only in self-gain and the souls of mortals; while tieflings, a hybrid of human and devil, have the free will to decide which way to go. I wanted to stress the latter.
In the Player's Handbook, it says...
It's that first bullet point I latched onto. When it came out that tieflings would be one of the core races of 4th Edition, Wizards of the Coast emphasized the "bad boy" angle: "It's cool to be bad." So in our book, I wanted to be sure to talk about the culture, and everyday challenges, of a race that has a constant, uphill battle against evil.
Goodman Games writer and editor Aeryn Rudel also added his vision to the project; chiefly, to six of the eight "legacies" described in the book, along with six archdevils. I can honestly say he sure did make them vivid, and the "Breaking the Chains" section of each legacy entry was his idea, which fit perfectly with my vision for tieflings, which is: Tieflings are bad-asses, and have a hell of a chip on their shoulder, but each can choose his own path. They're talented, crafty, capable of very great evil...and very great good. Most of the time they're a mix of both.
Sounds familiar, to me. I've always loved the idea of using fantasy to better illustrate humanity, to put our own reality in a different context for a fresh perspective. As I said in my Examiner interview a while back: "I've always believed that science fiction and fantasy both offer another world from which to better view our own. Get someone's attention because you've got a good story going and you can use that to talk about life, science, and the human condition. Yes, even with robots, dragons, and zombies. And to readers unreceptive to such things (which is perfectly fine), these genres at least offers a dose of escapism and sheer entertainment."
And as for devils? In referring to the devil and his job of tempting humans away from the Christian life, C.S. Lewis wrote: He does it by playing on our conceit and laziness and intellectual snobbery. I know someone will ask me, 'Do you really mean, at this time of day, to re-introduce our old friend the devil—hoofs and horns and all?' Well, what the time of day has to do with it I do not know. And I am not particular about hoofs and horns. But in other respects my answer is 'Yes, I do.' I do not claim to know anything about his personal appearance. If anybody really wants to know him better I would say to that person, 'Don't worry. If you really want to, you will. Whether you'll like it when you do is another question.'
A little bit more information about this book will be talked about in an interview I had with a popular RPG website, coming soon. Stay tuned!
In the meantime, here's a free preview of the book which Goodman Games has made available.
Sorry, one more C.S. Lewis quote, which I take to heart:
There are two equal and opposite errors into which our race can fall about the devils. One is to disbelieve in their existence. The other is to believe, and to feel an excessive and unhealthy interest in them.
That said, I'd happily choose to play a tiefling who challenges the evil inside himself, and the devils that put it there.
posted on 09.20.2009
Comments