Best Paperweight Ever
So the Scribe Awards previously mentioned have come and gone, and though The Darkwood Mask was a nominee, it didn't take the win. Congratulations go to WARHAMMER: Elfslayer by Nathan Long, which did.
But I have to say, it was very cool to be nominated. Especially since TDM was my first novel ever. The IAMTW (International Association of Media Tie-In Writers) and Wizards of the Coast were kind enough to send me a physical representation of my nomination, though. I think that's pretty neat, too.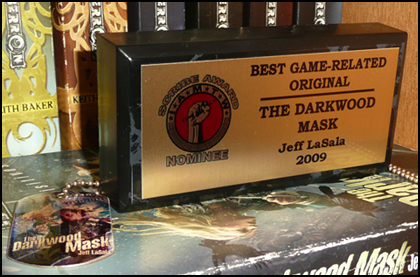 Click here for a larger image.
How appropriate, then, that this comes just before I begin my next post for Savant and other writing discussions.
So this is certainly the end of one chapter of my writing career and the beginning of another. I wish there hadn't been a lost chapter between them, but such is life.
I raise a glass to more metaphors to come.
posted on 09.03.2009