Lady Dissolution
Issue #2 of Level Up seems to be hitting stores and subscribing mailboxes now, or at least imminently. As a contributor, I recommend you pick it up—if not for my sake, then for the fact that it's so freakin' affordable. $2!
In issue #1, my "Deities of Áereth" article featured Gorhan, the lawful good deity of valor, chivalry, and war. The ultimate paladin god, with a dash of religious ferocity thrown in. But in this issue I give you Lasheeva, goddess of undeath, murder, and affliction.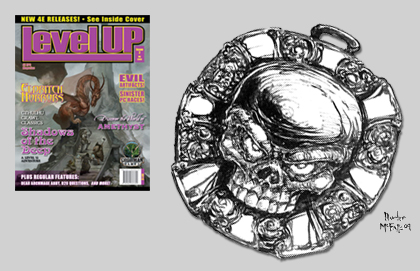 Here's a short excerpt:
Lasheeva is known foremost as Lady Dissolution, for she aims to burn the naïveté from the world, destroy its heretics, and bring mortiferous enlightenment to all societies. Her dogma is one of death, undeath, and whatever afflictions are required to shape the world according to her vision. She is called the Black Desecration, for her destructive wrath is often leveled against Áereth's self-righteous religions. Lasheeva is also sometimes known as the Cold Seductress, for she lures mortal and immortal alike into her fold not with promises of loyalty and affection, but of cold, uncompromising power. Despite the stigma undeath holds the world over, none can dispute the supernatural strength and invulnerability it grants its recipients. The Cold Seductress vaunts this like no other, and refers to the power of undeath as the Dark Salvation.
As always, the article is mostly flavor text ("fluff"), roleplaying ideas, and cultural information. For those who prefer new rules and game options ("crunch"), there's a new Channel Divinity feat, a magic item, and a paragon path to go with the clergy of Lasheeva.
Okay, my article aside, there are some other goodies to be found in this issue. My favorite is "Sheep's Clothing," written by co-conspirator Ken Hart, part of the "A Picture Tells 1,000 Words" series. I don't want to give anything away, but I will say that I probably won't look at a sheep the same way again.
posted on 08.29.2009
Comments