Maximilian
I don't normally have cause to put up a baby picture up on my website (not having any kids myself at this time and not particularly inclined to put up photos of anyone else's baby), but I'd like to make an exception today by putting up this photo of Maximilian.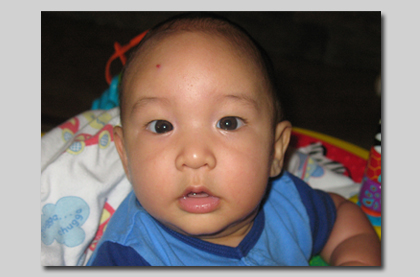 Max is the 4½-month-old son of author and friend Marcy Rockwell, and aside from being ridiculously cute, he's also very sick right now. He was recently diagnosed with stage 3 neuroblastoma, a cancer of the sympathetic nervous system.
Recently I've been working on an RPG book that addresses the concept of faith. In the D&D world, faith usually only takes the form of spell-slinging and other varieties of divinely inspired butt-kicking. But in this book I've really tried my best to infuse a bit more flavor, and meaning, into the concept. And why? Because in the real world, faith really does mean a lot to me. Belief in God (any god) doesn't seem to be something I share with too many people in the RPG industry, so I generally avoid talking about directly. Writers and game designers, like any artist, are pretty passionate and opinionated people.
Anyone with any faith at some point is confronted with the question of miracles. Do they exist? If you believe the validity of the Bible—or, like me, the validity of some/many things in the Bible—then you probably believe that miracles have taken place before. But do they still? Not a question anyone can answer. If you pray for something, will God grant it? I'm not so sure it works that way, or even should work that way.
But you can ask. You are encouraged to. I believe the asking is often more important to God than the question.
If any of you are so inclined, please pray for Max, to give him a fighting chance. Divine intervention is one thing, and the skill of a doctor is another. I think they can be mostly the same thing.
posted on 08.09.2009
Comments