Leveling Up Tieflings in Texas?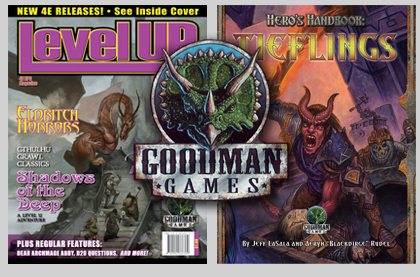 Some recent things:
Hero's Handbook: Tieflings, which I co-authored with Aeryn Rudel (and even my brother‡), should be coming out next month. I'll talk a bit about that when it does.
Level Up, issue #2 is also coming out imminently. This issue will include my next "Deities of Áereth" article, which details the faith of Lasheeva, or Lady Dissolution, the goddess of undeath.
On the subject of horror, I just posted up a review of Buried Tales of Pinebox, Texas. I wish more third-party RPG publishers would put out fiction anthologies based on their roleplaying books. (Hint, hint.)
I'm currently wrapping up one more Goodman Games book with. Once that's done, I'm returning to Savant in force. So the next Savant Scrawlings will be coming soon.
‡ Speaking of my brother, he's got a new website going: LaSalamander. Check it out. Let's together pressure him into refining it, eh?
posted on 07.15.2009
Comments