NY Speculative Fiction Examining
So, some interesting news.
There's a news website, Examiner.com, that allows "local citizen journalists to share their city-based knowledge on a blog-like platform." Essentially, they organize and even pay (a little) contributors to the site, each of whom are given the title of examiner. They're not professional journalists (although some are), and sometimes it shows, but generally speaking each person is a specialist in their own particular area. The application to become an examiner is pretty thorough; you've got to prove your skills and your credibility.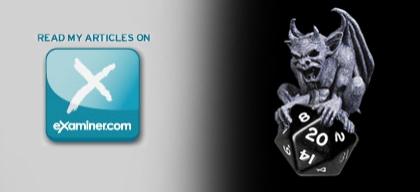 Well, I've become the NY Speculative Fiction Examiner. Please feel free to bookmark, subscribe, and stop by...whenever!
(You can subscribe via RSS or by e-mail; there's a "Subscribe to Email" link on the page.")
And see that die-clutching gargoyle in the upper right-hand corner of this screen? That's going to be a direct link to my Examiner homepage. Everything there will relate one way or another to speculative fiction, which includes science fiction, fantasy, and horror.
Although I aim to put a NY spin on as much of it as I can, these articles certainly don't require you to be a New Yorker to read them. So tell your friends, and their pets. Tell them to tell their friends and pets.
In fact, if you ever come across something relating to sci-fi, fantasy, or horror that you think might be worth an article, send it my way! I'm all ears.
Also, today marks the release of The Strain, a vampire novel written by Guillermo del Toro and Chuck Hogan. Go get it or something. It's good.
posted on 06.01.2009
Comments