Monastic Musings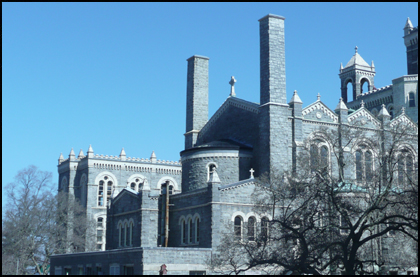 For just a few minutes of peace, a short-lived respite from a lot of chaos going on around me (including numerous hospital visits for multiple people), Marisa and her mother and I drove up to visit some monasteries in upstate New York the other day. (It was her idea, but I quickly warmed to the idea. Plus, I'm always looking for sources of inspiration.) Some are appropriately humble affairs, old priories of mortar and stone that house a relatively small community of brothers. (Or sisters, as there were numerous convents in the same area.) Others are European-style goliaths like the Mount St. Alphonsus Monastery (seen above).
The monastic life sure does have its appeal. Peace and quiet seems the most obvious advantage, but for some, a chance for spiritual reflection. For those unwilling to devote their lives to such...quiet pursuits, a lot of these monasteries offer day-, weekend-, or week-long retreats.
Visiting these monasteries triggered a longstanding thought:
It strikes me more and more with each passing year how often I stand in the middle between opposing ethics, political points of view, religious beliefs, personal relationships, and even artistic opinions. It continues to surprise me (I don't know why) just how sharply to one end of a spectrum people cleave.
I know and love people who are strictly Republican, but am usually surrounded by Democratic types. I know some people who don't care for loud/heavy/hard music, and others who need their music to be loud/heavy/hard for it be interesting. The gaming industry I often interact with seems populated mostly with atheists who rail against "organized religion" and scoff at most talk of spirituality or, at best, just don't care at all. Yet I've got a few friends in my life who do believe in God and can say "Jesus" many times on a daily basis and without taking His name in vain to do so. I've got some friends who love video games and really value the enjoyment and stress-relief they bring, yet I usually spend time with people who dislike them altogether and see in them only a waste of time that could be spent more productively.
And this is merely scraping the surface. Everywhere I look there are extremes. To them I am always at arm's length because I can't be the same way. And extreme views only get along with other extreme views.
Politically, I'm neutral. My opinion will just go wherever it is swayed (if it is swayed at all). I love pulse-pounding loud rock music, but I also love slower, moody songs and ambient melodies that would put some people to sleep. I really enjoy playing video games, but I don't think I could indulge too much in them without feeling guilty for having done it. I haven't owned a console game system since Atari.
And faith? I believe in God...Jesus, too, but I can't bring myself to get too preachy or quote Scripture to people or speak with anything other than my own words. Partly because I admit I don't have all the answers. (I don't think anyone should claim to, not even the most faithful person.) And I can't look at the Bible and think "This is all we need to know," and I can't think that it's God's Word that somehow has gone miraculously unfiltered since it was first laid down. So what am I, agnostic? No, not even close. I believe in Christ and what He stands for, no two ways about it. But when I talk to those friends of mine are who church-bound, I know I must look doubt-ridden, when really I'm not. I've considered myself a Christian since I was 13 and I've meant it. Today I consider myself a mere Chrisitian. When I visit a church or a monastery and I see people who live in their faith everyday, I admire and even envy them sometimes; to them I must be one of the sad souls floudering in the world, trying in vain to fill the void that only God can fill. But I'm not. I believe God is the thing that Man needs. Yet I recently finished working on a D&D book that involved devils. (I'll actually talk more about that book in another post someday. Its...interesting.)
When I talk to that other end of the spectrum, the people who dislike the notion of a higher power having any authority over them, I come across as some religious prude. Because I don't curse? Because I never smoke, drank, or touched a drug? Because I never partied?
Ahh, people.
Being in the middle of the road is an interesting place. It's not about not committing to one side or the other. Only when you're standing on the wall can you really see both sides. Who's the weird one in all of this? Maybe me, after all. Maybe seeing two sides of a story is the anamoly.
Incidentally, did you know that some monks have blogs? How cool is that?
posted on 03.16.2009
Comments