Pooch MacGooch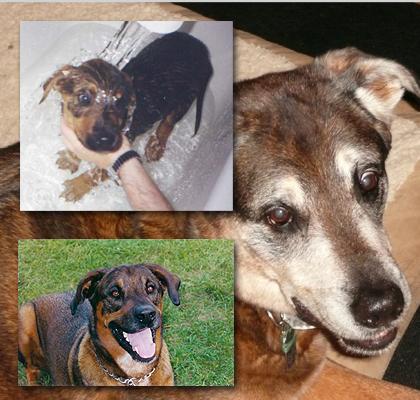 Bandit: 1997-2009
Everyone who knew this big brown dog felt great affection for him. He was a mutt: part Rottweiler, part Rhodesian Ridgeback, part friendly monster. He was a 130-pounder, strong and puppy-like, and not long ago he reached his 12th birthday. He also belonged to my longtime friend, Kate. Just another pooch who embodied the Man's Best Friend epithet that dogs rightfully deserve.
I love dogs. Most of them are pure concentrated happiness miraculously crammed into small and furry canine forms. You can't look at, say, a golden retriever with a tennis ball in his mouth and claim otherwise. Or a mutt like Bandit with a chewed up frisbee or decapitated stuffed animal toy. Dogs represent the good side of humanity; they're an appropriate companion for our race on this crazy, often morally-floundering planet. They keep us grounded. They love unconditionally, even when we don't.
Bandit will be missed. In my brief encounter with him when he was still a puppy his body couldn't quite contain the amount of energy God had managed to pack into it; he just wanted to jump up on, slobber, paw at...whatever! He just wanted to interact with people, even if he didn't know how yet. Very social, and more than a little crazy.
In time, he would become a member of our gaming group. He was our 3rd Edition druid's animal companion. Ever present and warm. Like a power generator, only generating life and love and comedy. He was inescapably there at all times. And as Ruth Lampi of The Five Wits says, "He was the proud scale-appropriate model of a riding dog, as well as the embodiment of the spell Wall of Dog." His presence made our gaming sessions much more memorable...and that's putting it mildly. We loved him, even in later years when he got a little too grumpy and unpredictable to cuddle with.
Now he's doubtlessly sprinting through some Elysium fields after celestial squirrels he'd never harm, fleeing from rain, and chomping on whatever suits him. The world is his Bandit Bed.
A couple years ago my brother (one of two of Bandit's best friends) recorded a song about him, "His Name Is Bandit", which cites some of the most notable moments, and quirks, from his life. If you've never heard it, give it at least one listen, will you? For him.
His name was Bandit.
posted on 03.07.2009
Comments