Hallowe'en Aftermath
Halloween has come and gone. But as the cultural door swings shut on all things ghoulish, why not have one at least one final dose in the spirit of the haunting season? If you're game, check out my review of Boo Berry® cereal. Yes, people, I actually put some cereal on my scanner, cut up a box, and reviewed a cereal that turns milk blue. Am I trying to recapture my childhood? No, because I never had stuff like that growing up; so there isn't a hint of nostalgia there. Although my adult self fully appreciates the notion of a horror-themed cereal and I've certainly always heard of these cereals.
The holiday itself was pretty good, although the actual trick-or-treat festivities were minimal in my part of NYC. Still, that didn't stop Marisa and I from dressing up, carving pumpkins, and doing our thing. Over the weekend we celebrated our anniversary by going upstate NY to the Headless Horseman Hayrides, which was actually the most elaborate hayride-and-haunted-house locale I've ever seen. A big cornfield hayride, with an actual headless horseman, a twisted fairy tales theme, and a great deal of theatrical gore. Fun. But afterwards when we went to a semi-fancy restaurant, being fun house snobs, we talked about how it could all have been better. Then we stayed in a creepy bed and breakfast which seemed to fit the season.
Here are some photos to go along with the above: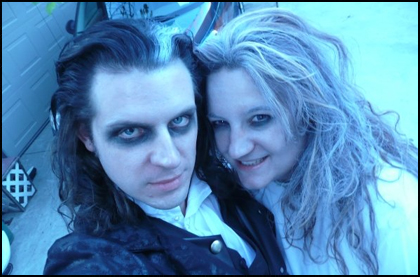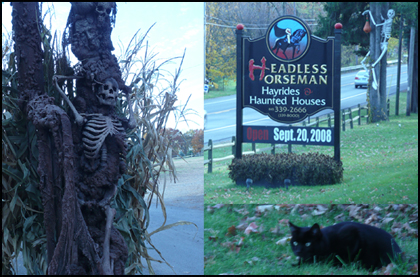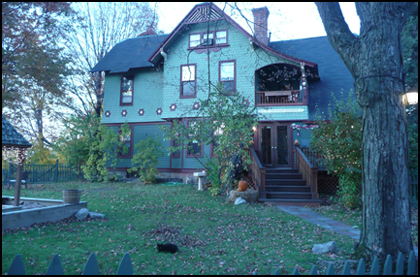 In other news.... Most of you probably haven't heard of it, but I picked up this year's volume of Spectrum, which just came out. Spectrum is an annual book of the "best in contemporary fantasy art."
Generally this is a book containing very awesome artwork of varying media from a ton of different artists. Most of it's cool, some of it's silly, and a smaller portion of it really isn't all that. But why did I actually purchase this year's? Because of page 84, of course: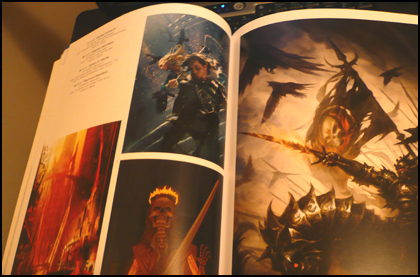 Really, Michael Komarck's painting for The Darkwood Mask ought to be over on that other page, big sized.
So what does November hold? A lot of work at the day job, some behind-the-scenes (for now) writing gigs, and some famililal surgeries coming up. Oh, and hey, Election Day is today, isn't it? I already voted, and that's all I'm going to say about that here. People can maybe start getting back to normal, and this country can hopefully begin to find itself again.
posted on 11.03.2008
Comments