Keeping My Vibe Down?
2008 only has a few months left. It's been a bizarre year for me, full of surprises. Some things have just been popping into existence out of the aether, while other, up-and-coming things have shriveled away. All in all, this time of my life is promising to be full of strange hodgepodge of exciting, depressing, or otherwise unexpected events. I guess it's a crossroads sort of age. I'm 31, I have a wife, no kids yet, dealing with stresses of the dayjob, hoping it'll endure, while turning my eye on the next big step: finding a new place to live. There's a hell of a lot hurdles to go through, beyond what the usual married couple has to go through.
Meanwhile, after a several week span of virtually nothing going on in the project world, I'm suddenly hit with an explosion of opportunities. I sort of knew that was coming, though; I just didn't know what form they would take. Now I do. I'll give specifics on these things when I'm allowed to. But, in conclusion, 2009 will have my name stamped on it a few times. It's not another novel, not yet, but it's already promising to keep me busy for the first half of the year. So far.
Well, we drove up to my parents' place this last weekend. It's a five-hour drive but it's always worth it. I miss them. But here are some other things that this weekend brought:
HEY Quarterly's latest issue, HEY Jerk!, just came out, and I got my copy. Check out the jerkiness and help some animals out by picking it up.

I got to play the Macintosh-only game Return to Dark Castle, because my dad just bought a Mac. I loved the original, as noted here. But this game had everything the original games (Dark Castle and Beyond Dark Castle) had, plus full color, some new sound effects and music, and a ton of new boards. You play a guy running around with bags of rocks (which you can turn into fireballs later), collecting keys, weapons, and magic orbs so that you can confront and defeat the Black Knight. And there are helicopter packs and little wick-lighted bombs. There are guards, snakes, rats, mutants, monsters, burning eyes, wriggling maggots, boars, henchmen, magic brooms....really, what's not the like?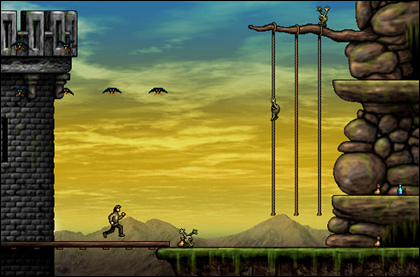 Meanwhile my brother got to play his new game, Spore, which he did reluctantly as he tries to avoid addictive things (such as fun computer games). Which some of you may have heard about it. It's really, really fun, and I can absolutely see myself getitng into it as well someday. Basically, you create and evolve your own species. In a cartoonish sort of world.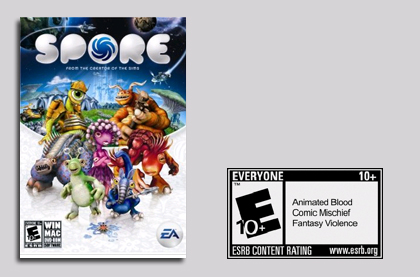 I got my family to play Gloom, the Edward Gorey-inspired card game of misery and misfortuned. I love the flavor of this game. This is the description off the back:
Gloom: The Game of Inauspicious Incidents and Grave Consequences
The world of Gloom is a sad and benighted place. The sky is gray, the tea is cold, and a new tragedy lies around every corner. Debt, disease, heartache, and packs of rabid flesh-eating mice -- just when it seems like things can't get any worse, they do. But some say that one's reward in the afterlife is based on the misery endured in life. If so, there may yet be hope -- if not in this world, then in the peace that lies beyond.
In the Gloom card game, you assume control of the fate of an eccentric family of misfits and misanthropes. The goal of the game is sad, but simple: you want your characters to suffer the greatest tragedies possible before passing on to the well-deserved respite of death. You'll play horrible mishaps like Pursued by Poodles or Mocked by Midgets on your own characters to lower their Self-Worth scores, while trying to cheer your opponents' characters with marriages and other happy occasions that pile on positive points. The player with the lowest total Family Value wins.
posted on 09.15.2008
Comments