Indiana Bound & Raiders of the Geneva Convention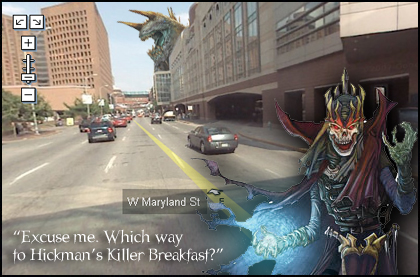 Five days off from work is the longest vacation block I've taken in a long time. Generally any day missed requires a ton of catch up work. Vacation means plenty of preparation work. But it's worth it. Starting tonight, I won't be checking my blackberry emails until....next Tuesday, perhaps.
First is the drive from New York to Indiana, a 12-hour roadtrip made fun by my wife and my brother. Oh, and plenty of gaming talk. See, I have to teach them the basics of 4th Edition D&D en route because all three of us are going to be players in an Eberron game. I'll be playing an elf ranger, my wife a dwarf paladin, and my brother a human cleric. Yeah, let the geekery begin!
Then 3.x days of GenCon madness. I stumbled on the Author's Avenue schedule for the first time yesterday. I know I'm the no-name of the bunch, but it sure does feel good to be put onto a spreadsheet with the likes of R.A. Salvatore. At age 16, I went to a book signing he did at a Walden Books for The Legacy, the first hardcover Drizzt book. This GenCon is Drizzt's 20 year anniversary.
If I never write another book (oh, I sure will try), at least I've done this much. One big dream checked off my remarkably short list, and I guess I'm thinking of GenCon as my celebration of that fact. It's been a pretty crappy summer for me so far, but I know I'm still quite fortunate. I don't forget that for a second.
Then the trip home, which involves driving through Amish country in Ohio and Pennsylvania and maybe a tourist attraction or two.
I brake for kobolds.
posted on 08.12.2008
Comments