The Doom of Kings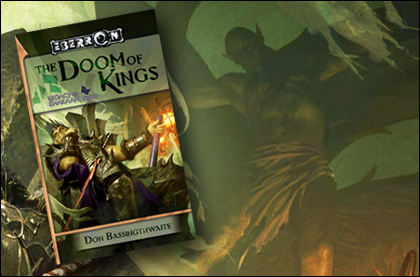 When I started writing The Darkwood Mask, I started to wonder if I would be as free to give my impressions of other Eberron novels. Should one author criticize or comment on another author's? It seemed like bad form to say anything at all, or even just an unwise career move. And so I learned that if I have nothing good to say, then I'll just keep my mouth shut. But if I have something good to say...damn it, I'm going to say it.
Now, it's a bit of a heartache seeing new Eberron novels coming out and knowing that I won't likely be contributing any more myself in the foreseeable future. But....when a good book warrants it, I have to plug it. And so the latest Eberron novel (after a spell of no releases) is Don Bassingthwaite's The Doom of Kings, part 1 in the new trilogy Legacy of Dhakaan.
Don's first Eberron novels, the Dragon Below trilogy, really helped to kick off the Eberron line and more than many of them really helped to invigorate the setting. This trilogy continues with some of the same characters—and I personally recommend reading that trilogy first. That said, The Doom of Kings offers some very good reading and some very cool elements: Hobgoblins as a civilized race, struggling to maintain their own nation. What's not to like? More adventures of the the shifter Geth, the barbarian-turned-Deneith-heir Ashi, and the hobgoblin "dirge singer" (i.e. bard) Ekhaas. All very compelling characters.
Tired of reading about goblins as mere fodder for powerful heroes? There's a scene I really enjoyed (and I'm only up to chapter 7) where an impoverished street goblin and his two sons offer Ekhaas, the female hobgoblin bard, a gift of a meal after overhearing her recount the legends of her people, of glories of the long-faded Goblin empire (Dhakaan). She tries to decline the offer, saying she needs no payment for telling a story. But they insist she accept it, even though it is their only food, because her stories filled them.
This book shows off what I've like about Eberron the most: It's a D&D world all grown up. You've still got your dungeons and your monsters, but some of the monsters are people, too. I love that. And I tried to do some of that in The Darkwood Mask, too, with the kobold Verdax and even the bugbear, Rhazaan.
Some items of note:
Book club discussion of The Doom of Kings. It's only just started. Come talk to Don here!
posted on 08.07.2008
Comments