A Week in the Life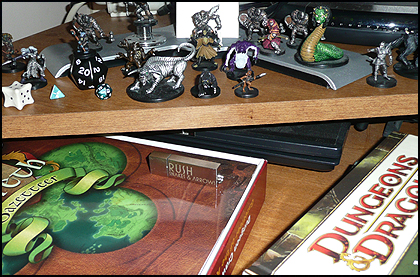 Random snippets from this week:
Monday
6am - Receive an mpg file from my friend and fellow Eberron author Paul Crilley: footage of a monkey he recorded in his backyard in South Africa. A naughty monkey.
8:26am - Wonder when we'll get to see Wall-E.
9:45am - Reread the introductory text of a zany online serial my brother is gearing up to write. I'm glad of it.
9:30am - Receive a call from my dad as he waits on a plane that hasn't taxied yet; heading to Japan (again) for a single 3-hour meeting. My dad's spent more time on a plane in the last year than I have my whole life times ten.
1:13pm - Choose another awesome picture from Inga Nielsen's gallery to set as my desktop wallpaper.
5:19pm - Wonder if I have time to write up a review for Alanis Morissette's Flavors of Entanglement. (Probably not.) I really like it. It's no doubt the album that will always make me think of this summer. Last year's was Blue October's Foiled.
6:30pm - Go with my wife on another hospital visit for her dad. Things are getting worse.

Tuesday
6:03am - Queue up Fly By Night in my iPod so I can get a fresh listen before the next installment of Dreamlines.
2:13pm - Wonder where Harley Stroh went off to again. The man is a gypsy.
2:14pm - Strongly hope my editor takes a bit longer in sending back comments on my first draft.
8:53pm - Continue posting 4th Edition D&D rules updates behind the scenes for my play-by-post game.
8:58pm - Finally grasp the fact that you can't fight with two weapons in 4E without the use of a power that allows it. (I think.)
10pm - Watch a new episode of Bizarre Foods with Andrew Zimmerman that I hadn't seen before with my wife. Fun show. Educational, too. Makes me feel so embarrassingly...Western.

Wednesday
11:30am - Listen to some old Jon & Vangelis while walking around the Wall Street area on my lunch break. What a crazy match-up that is.
2:11pm - Receive email from Netflix that Dr. Katz Season 1 Disk 2 is coming next; seems they skipped Hellboy on my queue, not surprisingly.
6:13pm - Feed the cats that we've been taking care of again.
6:15pm - Hope the tenants upstairs do indeed bring friends of theirs willing to take the cats. The fate of every stray cat on my block, given time, is death by speeding car driven by some a-hole. I don't want this to happen to them.
4:30pm - Sit back and smile as I come across a an Eberron fan's post over on the WotC boards that cites The Darkwood Mask as an example of a good depiction of evil-minded Karrnathi zombies. Yeah.
4:52pm - Dread the next day at work. Thursdays and Fridays are hell lately.

Thursday
11:14am - Meet my wife on my lunch break to walk through Battery Park. Nice day out. The people in the Statue of Liberty costumes have to be burning up, though.
1:04pm - Resist the desire to collapse under weight of a soul-crushing, ever increasing workload at the day job. Okay, I exaggerate. A little.
3:14pm - Ruminate on the delay of Friday. Where the hell is it?
5:25pm - Listen to the first podcast from Atomic Array on my iPod. Very cool game talked about in there called Colonial Gothic.
11:48pm - Get woken up by idiot tenant who's paying late, and not in full. Idiot.

Friday
8:46am - Post this list.
posted on 07.10.2008
Comments