Vermillion Elements and Verdax Forever
The aforementioned Josh Wentz has just released an EP (short album) called Field as part of the new label Sidedown Audio. You can buy it over on the website INDISTR for super cheap. It's a neat set-up, actually. You can buy each song for one buck†...OR the whole EP (4 songs) for any price you want, between $1 or $20 and you can use PayPal.

Consider it! It's mellow and even a little jazzy, good rainy Josh music that I've come to enjoy, but there are some things that set it apart: one of which is some zany lyrics! Given that I like dramatic introspection in my music and lyrics, I'm particularly fond of "Elements."
Get it! For a dollar if you must! Read more about the EP here.
Also...Sidedown has just released HEY Quarterly volume 2, issue 2, which is called HEY Junction and features cool art and interviews (even with me). It's twelve bucks† and all proceeds go to the Anti-Cruelty Society. Read more about it here.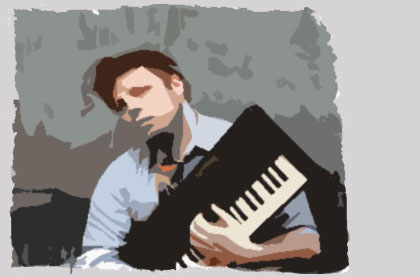 † "Meaning of 'dollar' is 1856, American English, perhaps an abbreviation of buckskin, a unit of trade among Indians and Europeans in frontier days, attested in this sense from 1748."
posted on 06.02.2008
Comments