Changes Aren't Permanent, but Change Is
If months had epithets or slogans, March could be "The month of turbulence." For me, this is certainly true. Nothing severe or life-changing as yet, but change nonetheless. Among other things:
My day job office is relocating from one part of Manhattan to another. I'll probably talk about that again later, just for kicks.
My wife and I are just beginning to educate ourselves about bank loans and mortgages, with a view towards relocating ourselves. This has been a long time coming, but I understand it's a slow process. Unlike some people (Ed & Lara!).
Sidedown, this website's kindred spirit, is revamping and relaunching. The dot-com side of it has already had a face lift. Check it out. You will probably not find another website both honest and simplistic in its core vision. And it's aggressive about it. If you like random and creative, go there. There's stuff you can buy, but there's also plenty of free content: blogs, podcasts, various projects.
So, check this out: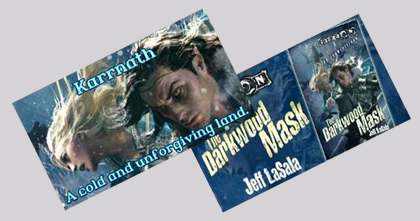 Wizards of the Coast created, as they do for most books, a little flashy animation ad for my book. Go here to see the real thing. You might have to wait for it.
Another thing: this website is just over a year old now! All the props go to Josh Wentz and Pete Akins for making it a real website. So now I'm wondering: who are you that you're sitting there reading this? A glance at my web statistics tells me that I get a decent number of lurkers out there stopping in. Any chance you'd be willing to tell me who you are? Post!
Even if not, thanks for visiting.
One of the things site statistics keep track of are what search strings led people from search engines to to my site. I've had some amusing ones for Ashlock.org. I'll share some of my favorites with you. Some of these make perfect sense, and others——less so. People are crazy!
brownies and boggarts
drow fantasy art
ren faire wallpaper
figgy pudding derivation
children verse that refers to colly birds
jack sparrow theologically
amazonian indians wallpaper
the little mermaid wall
the silmarillion risk
girls with long hair
githyanki
don lasala new york
what does the name ashlock mean
gnome adventure
proud navy wife
bicycle accident through a stone
candy and her brother jeff. game
colobus monkeys
how to make a warforged halloween costume
accident reading while walking
dark ages vampire
rushian men
mystery murder novels
crossbow grapple
cosmic girl
appliance repair filet
legacy of wolves review
the inquisitives book list eberron
harley stroh tournament
older human cleric
brian ashlock and wife
lycanthropes
capuchin monkeys
halfling monk
elves suck dnd
cosmic enforcers rpg
I should note that "colobus monkey" and "capuchin monkey" have come up time and again. What the heck?? I have to think that some of the people who found my site with those search strings were pretty disappointed.
posted on 03.23.2008
Comments