City of Choices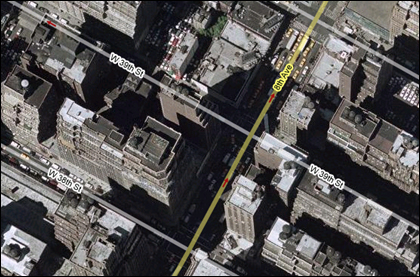 In fantasy--okay, and in real life--cities get epithets. Sharn, the City of Towers. Waterdeep, City of Splendor. Prague, City of a Hundred Spires. New York's nickname (the Big Apple) is lame. Oh, and the City That Never Sleeps is bogus; it should be the City That Goes To Bed At A Reasonable Hour.
Well, I'm dubbing it the City of Choices. I've lived in many places, usually Army posts and suburb-like housing, but I've visited many cities over the years. Some big ones, too. Indianapolis, San Francisco, Detroit. And as smelly and mean as NYC can be, I know that when I eventually get myself out of here I'll miss the multitudes of conveniences and the sheer variety (people, food, goods, art, buildings) that can be found here.
I have only a small example at the moment. Yesterday I randomly desired Indian food for lunch. So I Googled Indian cuisine and within a 5 block radius of the building I work in I found a host of options. I picked one that seemed interesting, walked there, and discovered a very cool, subterranean restaurant (complete with Indian videos--always amusing) and very authentic, very spicy, and decidedly unAmerican yummy food. I was the only white person there at the time, too. I was dubious about the unlabeled meats, so I actually favored the vegetarian section of the buffet. They had good naan, too. And the whole affair was $8. Not bad for a Manhattan lunch.
I know many other cities have similar options, and good ones, too. But the sheer density of this one makes it the most choice-prolific. But that's just my biased opinion.
So what epithet would you give your city or town (even if it already has one)?
posted on 01.17.2008
Comments