Rise of the Tiefling?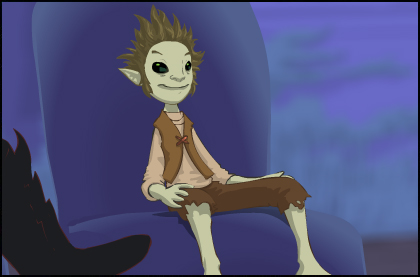 For you gamers out there, WotC put up another On the Set of 4th Edition movie. I don't think it's on YouTube yet, so only members of D&D Insiders can see it just now. As mean as it is the poor, unsung gnome, it is funny.
The recently released Races and Classes book talks about some of the changes to the core races and classes of the game. Some of it's intriguing, some cool, and some a bit scary. For example (if you're not a gamer geek, the following won't make much sense to you):
Humans, generally speaking, are horse-riding, plains-dwelling folk. Which seems odd to me, given the diversity humans normally represent in the game. They're sort of an orphan race, the god that created them having been murdered somewhere in their mythology.
Elves have been split into three 'species': What was once wood elves are now simply elves, forest-dwelling, wild folk; what were once high or gray elves are now eladrin, a magical race who dwell in the Feywild, 4th Edition's version of the world of Faerie; and of course drow, which seem relatively unchanged. Elves seem to have a lot shorter lifespan now.
Dwarves, among others, have lost their darkvision.
As the video above illustrates, the tiefling is now a core race, and for the time has bumped the gnome off the list. I have mixed feelings about this. But in time the gnome will return in some other release so I'm not as concerned for the long run.
A new race, the dragonborn, have appeared. They look a bit like DragonLance's draconians, but they're meant to be more accessible to players.
Halflings are now water- and marsh-dwelling river folk. I think that's a bit extreme. I know WotC wants to distance halflings from the Hobbits they came from, but maybe they're being oversensitive to this fact?
Half-orcs, half-elves...will these even appear in the initial release of 4th edition? No word on that.
Paladins will no longer be restricted to the Lawful Good alignment. Now there can be evil paladins. Another shame. The origin of the paladin comes from Charlemagne's knights; heroic, noble champions. That's what they were. I'm all for re-imagining, but I'd rather they find new ways to portray the classic chivalric holy knight than completely redfine it.
Warlord is a new class. The concept is fine, but I think it's an odd name for a core class. Might as well name a class General.
I'm not a nay-sayer of 4th Edition; in fact, I'm more optimistic than most. But I generally dislike 4th Edition's proclivity for "what looks cool right now" over what makes a better, longstanding setting.
One thing I can't help but think about: how does the new version of D&D affect the novels? When rules of the world change, as well as the magic system, and new races appear, how does that affect the campaign worlds and their fiction? It should be interesting.
posted on 12.27.2007
Comments