Moonshine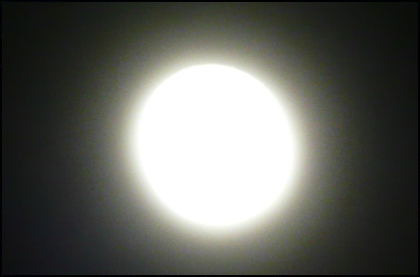 A couple days ago my brother informed me that the moon would be at its brightest on Christmas Eve, and will not be as bright again until another 16 years have passed. There was unfortunately a lot of cloud cover from my part of the planet, but I took a snapshot of the moon anyway where it floated nearly overhead.
So what makes the moon appear so bright? It didn't technically glow any brighter, but it was rising at an angle to the Equator such that more light shines directly down onto smaller portions of ground.
At the same time, Mars was also visible to the naked eye and unusually bright because it was in 'opposition,' aligned with the Earth and directly opposite the Sun. It was obscured by cloud on the 24th, but it was clear and bright the day before and also appeared very close to the moon. If you get a chance, look for our friendly neighborhood Red Planet; it'll be faintly visible for another couple months. It's slightly orange-ish compared to the stars around it. This is the Astronomy Picture of the Day's photo of the moon and Mars together.
It's natural for spiritual-minded people to draw big parallels with our everyday lives and these celestial alignments, but I won't. They're just some of the Creator's awesome creations riding their own currents, and sometimes we get an evening show out of it.
posted on 12.25.2007
Comments