More Excessive Christmas Cheer!
Presenting Part 2 of Hollycast, a collection of alternative Christmas songs and some fun little movie excerpts. Check it out. Another 45 minutes of unusual holiday cheer.
Hollycast Part 2. Download it or play it here: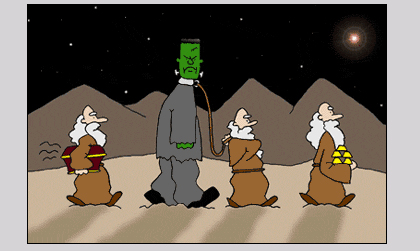 Here's some more Christmas Carol thoughts:
"We Three Kings" - The Bible never specified that there were three kings; it only cited three specific gifts (presumably among others) offered by the Magi.
"We Wish You A Merry Christmas" - Figgy pudding is a medieval spiced porridge which is more cake than pudding and was very difficult to prepare; it either came out wonderfully solid or a soggy mess. The Cratchit family has figgy pudding in A Christmas Carol.
"The Christmas Song" - This song seems not to wish "merry Christmas" to people 93 years or older. That's kind of messed up. Perhaps Mel Tormé and Bob Wells, its writers, didn't anticipate our increasing life expectancies?
"Let It Snow! Let It Snow! Let It Snow!" - Like "Winter Wonderland," this song makes no reference to Christmas, though it's considered a Christmas carol. Also, why does the singer encourage snow when he also considers the weather outside to be frightful?
posted on 12.18.2007