Gentrydom
gen·try –noun
wellborn and well-bred people.
(in England) the class below the nobility.
an upper or ruling class; aristocracy.
those who are not members of the nobility but are entitled to a coat of arms, esp. those owning large tracts of land.
(used with a plural verb) people, esp. considered as a specific group, class, or kind: The polo crowd doesn't go there, but these hockey gentry do.
the state or condition of being a gentleman.
Today is a pretty momentous day as far as I'm concerned. About 4 years ago, Wizards of the Coast announced an open call for a novel entitled Maiden of Pain, which would be a stand-alone book set in the Forgotten Realms world. I among many submitted for that contest and among the many fine people with which I made an acquaintance during those turbulent, hopeful writing days——and none I could relate to more*——was Ed Gentry. TODAY, 4 years later, marks the release of Neversfall, Ed's first novel. (Get it!)
My wife's picking this up for me today and tonight I'll be diving right into it. Congratulations, Ed! This...rules.
Fun Trivia: Neversfall is an anagram for Vernal Self. And Edward Gentry is an anagram for Dry Raged Newt (or Tawny Dredger or We Dry Tag Nerd or...)
(*) Sure, we disagreed theologically, but we always had Rush to unite us.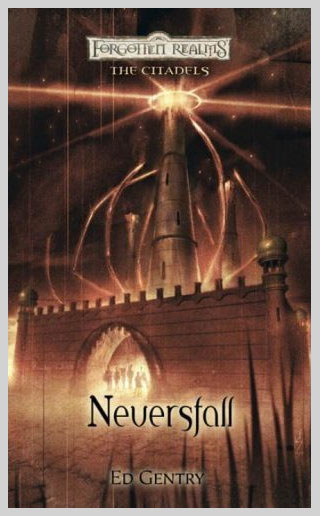 Edit: I'm a few chapters in now and I'm digging it. The first chapter I had to read slow, because Ed introduces a very different corner of the Forgotten Realms with a very different culture, but then came a big monster fight! And did I mention the giant ant people? Dude. Giant ant people. Read it!
posted on 11.25.2007
Comments