November
The Council of Elrond convened in late October, and much of the Lord of the Rings takes place between late autumn and all throughout winter (the One Ring is destroyed in late March). And why not? It's a good time for epic quests.
There's still these last two months left of 2007, but already 2008 is gearing up to be a pretty big deal. This year was crazy busy; next year may be more so, but I have much to look forward to (and much to get through first). My wife and I didn't have much of an anniversary, so we're planning on taking a long weekend in mid-November upstate, perhaps Lake George.
Before things do get more insane, I've been playing a bit more of Lord of the Rings Online, this time with my Hobbit guardian, Dadger. The most fun is visiting the "famous" places from the trilogy.
This is one thing I really appreciate this game. It really helps teach you the geography of Middle-Earth. When reading the trilogy, the names of places often slip through your mind with no real traction. Now I've got a better sense of where the Shire is in relation to the world, and where Bree is, and so on. Although the scale is certainly not as realistic, since I can run from the Shire to Bree in about 10 or 15 minutes and in the book it took the Hobbits weeks.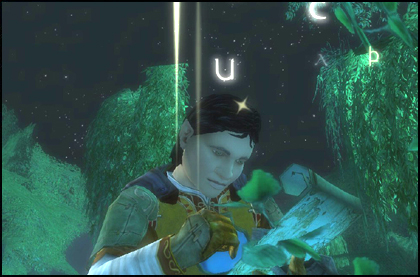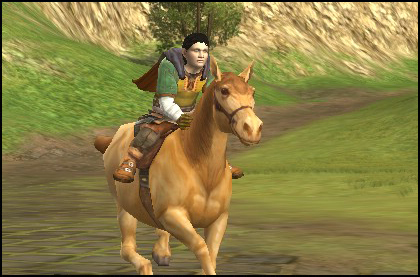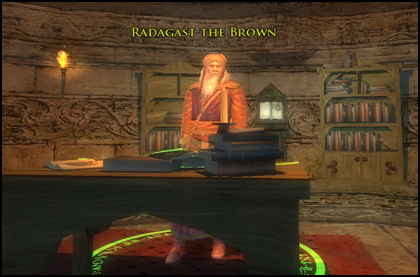 Ahh, Radagast. One of the Istari, one of the handful of Wizards sent to Middle-Earth to help the people contend with Sauron. But you see, Gandalf (the Grey) was the only one who ever really did his job and he had to pick up the slack for the other Wizards. Radagast (the Brown) turned hippie and chose to laze about in the woods with his animal friends. Saruman (the White) actually turned traitor, and the other two, Alatar and Pallando (the Blue) went AWOL.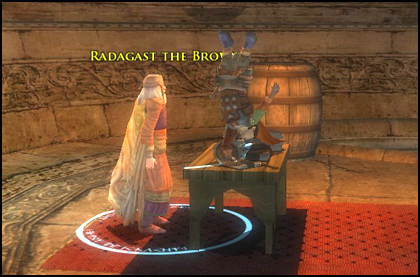 At heart, Radagast is still a good guy, but he didn't do enough to help Gandalf out. So I did a handstand on his table.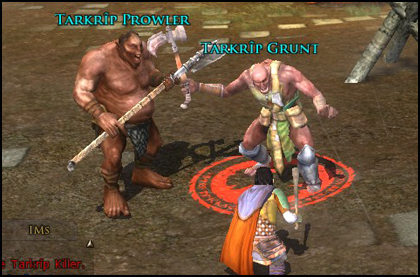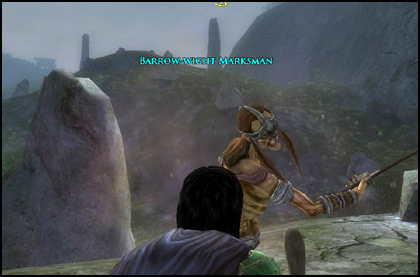 The funny thing about this game is that the heroic actions and battles your character undertakes are a lot more prominent than what the members of the Fellowship ever did (although their quest was still the most important). This game makes it look like you kept all the nasties of the land away from the Fellowship so they could do their thing.

Today it won't quite reach 50°. Damned straight! I can perch comfortably just about anywhere--in the shade, in the sun, wherever! I think I'll hunker down on St. Patrick's Cathedral tonight. It's a bit of a tourist trap, but I'm a sucker for neo-Gothic.
posted on 11.05.2007
Comments