Chromaticism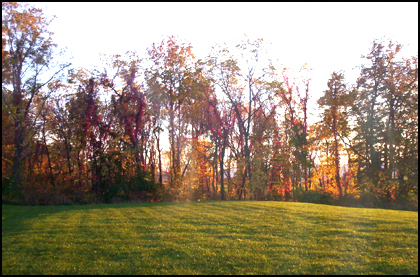 We took a drive up to my parents' place in Corning, NY this weekend. The autumn colors were perfect, the sense of October in full. The actual temperature, however, continues to disappoint. I'm reminded each morning how apart I am from the rest of the world. Today will be into the mid 80s, and the news anchormen say it's going to be a wondetrful day. Wonderful? 80°, in late October? I think not. In any case, time is on my side.
Update on horror movies:
The Descent - Recommended by two people, I rented this and enjoyed it. I was hoping for more story development regarding the monsters, but it was very well done and suitably freaky. Can anyone recommend this director's previous film, Dog Soldiers?
House - All right, I rented this one because I'd seen it many times long, long ago. Back in the days when monsters were rubber suits, not CGI. Good stuff, half-scary, half-goofy. Very 80s.
I'm considering seeing Resident Evil: Extinction this week. The RE movies have been lacking the rich story from the games and books, but at the end of the day they're still zombie movies. And I dig zombies. Look for some in The Darkwood Mask.
posted on 10.21.2007
Comments