The Palace Continues
It's kind of fun to see something that you worked on a long time ago finally crop up in the public eye. Well, maybe not that long ago.
Two upcoming Goodman Games books coming out:
Palace in the Wastes, last year's GenCon tournament module. I designed a single, fey-themed room in that law-vs.-chaos-themed adventure. I hope they illustrated the room; that would be cool.
The Adventure Continues, a collection of mid-level adventures of all types. I was particularly pleased with my contributing adventure, a nightmare-laced delve into a quasi-real dream dungeon. Can't wait to see any illustrations for that one.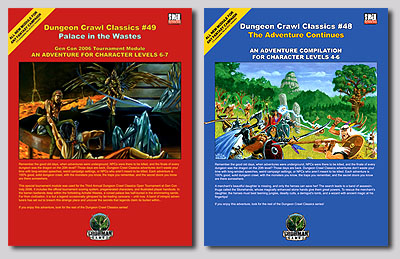 posted on 06.13.2007
Comments