The Point of the Journey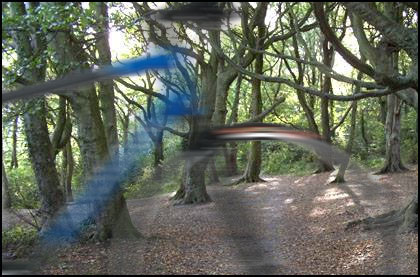 I bought myself a bike recently, after...oh, ten years or more of not owning one. It was seriously about time. And it reminded me: there is nothing more thought-provoking for me than movement of some kind.
I spent a fair amount of time as a kid riding through the neighborhoods of my ever-shifting places of residence. As an Army brat, there was inherently a constant motion to my life.
Now I've lived in New York City for nearly 10 years, the longest time in any one location. Such inertia could lead to stagnancy. So one small step out of it is to move more often. I need the landscape to blur a little bit. I've only got busy streets and urban hoods in my Bronx neighborhood (not the best place for riding) so that means I need to ride farther away to really feel free.
But yes, ambulatory thought is the best kind there is. Looking back, some of my most inspired moments for my writing have come when I'm somewhere between starting point and destination. I've often ridden a train, unable to prevent myself from "writing" in my head, frustrated at my inability to get it down on paper...knowing the moment will be gone when I do reach my destination.
Now, I have taken to carrying a notepad around with me most of the time; I'd venture to say that some of the better moments in my Eberron book will have been written somewhere between Manhattan and the Bronx and were first jotted down in a notebook.
The only thing that beats thought-in-motion: thought-in-motion with music. The iPod will do nicely, though I just have to be careful not to be cranking the music with speeding cars around.
posted on 06.06.2007
Comments