Elves & Dragons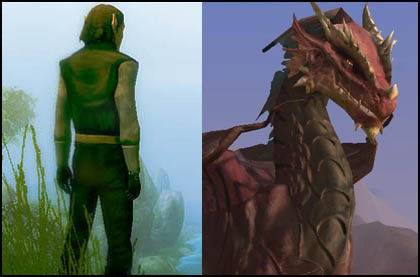 Even though I've been contracted to write a novel that should see print sometime in 2008, I'm still intimidated when I walk into the science-fiction & fantasy section of bookstores. The hundreds——thousands——of existing titles and well established authors feels pretty hard to contend with.
I'd love to know the percentage of how many of those titles include the word "dragon" or how many feature elves. It would be a bit...much. Dragons are a staple of the genre and elves are certainly an overpopularized race in the RPG subgenre of fantasy. I'm a big fan of both, despite the hoopla, but writing an original story about dragons or elves (or both) is daunting against such masses. Such popularity also breeds spiteful dislike: Anyone who frequents game or fantasy fiction message boards will inevitably find Elves Suck threads. Strangely, or perhaps gladly, few people dislike dragons. But it still isn't easy to get anyone particularly interested in a new dragon story. "What!? A new book is coming out about people riding dragons in a land of magic? Woo-hoo! Where can I pick that groundbreaker up???"
My novel doesn't feature any dragons. But there is an elf cast in a relatively minor role. For all the obsession and counter-obsession of this pointy-eared folk in the genre, I'm still delighted to offer my depiction into the collective mythos of elves. Sure, mine exists in an established, shared world setting, but pick up any Eberron book and you'll still get a different flavor on them. Oh yes, and my chief protagonist is half-elven. But he's no Tanis and he's certainly no Elrond.
Don't get me wrong, though. Dragons and elves have been depicted wonderfully before. I highly recommend some of the Dragonlance trilogies, as well as Richard Lee Byers's Forgotten Realms trilogy The Year of Rogue Dragons. And, let's face it, Tolkien's Smaug is still the best intro to dragons!
Novel Update: 68.5k out of 90k.
posted on 03.26.2007
Comments