Elaine Cunningham, Forgotten Realms luminary and all-around magnanimous writer, tagged me in the Next Big Thing meme, which prompts writers to talk about what they're working on. I don't normally cave into memes (yeah, everyone says that, too), or give into peer pressure, but with peers like this, I'm honored to. Plus it gives me an excuse to talk about some very cool things and people.
So I'm answering ten questions about what I'm working on as a writer—though I am stretching the questions a little by including what I'm doing as an editor—and then five of my colleagues will go and do the same thing. I'm going to answer on behalf of everyone involved, since this project is way bigger than my efforts alone.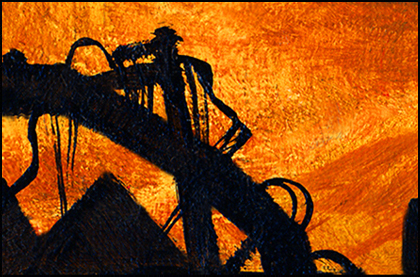 Art by Megan Glover
1. What is the working title of your current project?
Webshadows, though it's not a book at this time. In the last year, you may have heard me blabbing about Foreshadows: The Ghosts of Zero, the big cyberpunk book+soundtrack that released last February. As editor and contributing author, I'm mighty proud of this thing. It's gotten some high praises, some awesomely positive reviews, and we even showcased Foreshadows at GenCon 2012.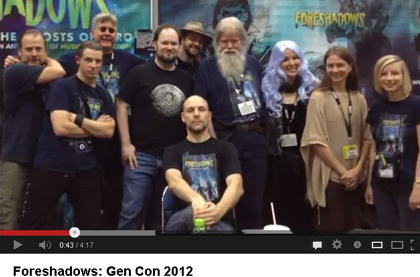 But if the Foreshadows anthology is a dark and winged shape flitting through the night sky, Webshadows are static traces discoverable by anyone at any time. They're freely available on foreshadows.net/webshadows. Some will be stand-alone additions to the expanded Foreshadows universe, while others—like the first one—are prequels of stories in The Ghosts of Zero.
And I'm happy to be editing again.
2. Where did the idea come from?
From having more ideas, stories, and artistic expression than one book+CD can contain. But really, we wanted something to give our readers and listeners more to enjoy, and maybe even tease in some new people. Not to mention that there are tons of talented authors, musicians, and illustrators out there that I'm happy to find an excuse to collaborate with and get collaborating with each other.
3. What genre does this fall under?
Science fiction, with a decidedly cyberpunk bent.
4. Is anyone else involved?
Oh yes. Heaps of folks. The Foreshadows universe is one big vision seen through a multitude of different lenses, and from its outset collaboration has been essential to it. The first Webshadows tale, "Into Pandora's Box," was written by Jaleigh Johnson, composed by Dylan Leeds, and illustrated by Ruth Lampi.
But others on the docket are Elaine Cunningham, Ed Greenwood, Eytan Bernstein, and Chris Dias, with music and art coming from the likes of Charles B. Griffin, Bilian, Alan Norman (as Thee Crumb), Michael John Keegan, Megan Glover, and Oliver "Moth" Haldon. They're waiting in the wings, with their contributions mostly finished and just being touched up. But further down the line, other souls linger and may be yet drawn into the fold. Like John Rossomangno, Colin McComb, Elvis Podvorac, Ed Gentry, and Harley Stroh, oh my! And perhaps more! Before too long, I'll be gangpressing my brother John LaSala—co-producer/editor of the whole shebang—into producing some music of his own.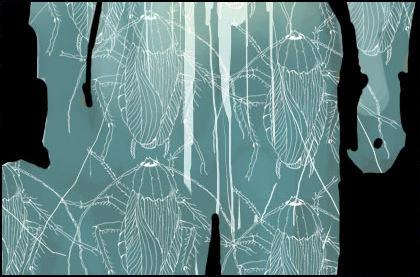 Art by Adrian Dexter
5. Can you give some one-sentence synopses for these tales?
I'd love to! The following Webshadows tales are waiting for their cues, stage left...
"Truthtell" by Ed Greenwood, Nick Parton, and Adrian Dexter. A peek into the mind of CEO Mark Steelweather, one of the most powerful capitalists on Earth. (This is a prequel to "Best Served Flash-Frozen.")
"Destroy. Consume. Erase." by Eytan Bernstein, Thee Crumb, and Moth. Two lonely souls bring the B-One Corporation's office in Montreal to its knees.
"In the Company of Mirrors" by Chris Dias, Megan Glover, and Bilian. Three things stand between Talvin Pascal and his freedom: a corporation, a conspiracy, and a very big robot.
"Enfold Us Beneath Open Wings" by Elaine Cunningham, Charles B. Griffin, and Michael John Keegan. The synthetic sisters of the Order of St. Hildegard have more in mind for the world than simple prayers.
6. Will this be self-published or represented by an agency?
Well, Foreshadows: The Ghosts of Zero (the book+CD) is published through Blindsided Books and distributed by the Very Us Artists, with the e-book sold through BaenEBooks.com. Whereas Webshadows are free to read/see/hear right off our website: http://foreshadows.net/webshadows/
7. How long did it take you to write the first draft?
Oh, gosh. Individually, the stories and music and art came together quickly. But these were collaborations made by some very busy people. Foreshadows as a whole was the steady coalescing of great imaginations, and these Webshadows are coming together similarly.
8. What other books would you compare Foreshadows/Webshadows to within your genre?
Being an anthology of very diverse authors, there's really no other books I can directly compare Foreshadows to. Really, it would be easier to describe it to people if I could say, "Oh, it's like so-and-so, but in the future!" With writers like Robert J. Randisi involved, we've got some stories more akin to oldschool pulp than to, say, William Gibson's. But then we've got Ed Greenwood, whose imagination is twisty and fantastical even in the wavelengths of science fiction. There are moments in both Foreshadows and Webshadows that feel like the Twilight Zone, too. Joe Rixman's story, and even Jaleigh's Webshadows story, have those creepy moments.
Mr. Roboto from CyberpunkReview.com wrote, "The Very Us Artists have made their case for the next generation of cyberpunk, and it's a pretty bold statement. A broad collaboration that shows what multimedia should have been in the 90s. Even now there's word of more than could be published in a book. Webshadows continues where the book leaves off." Given that, its hard to accurately compare this project to anything else.
Art from Foreshadows: The Ghosts of Zero by Talon Dunning
9. Who or what inspired you to write this?
The interesting thing is, the genre alone doesn't necessarily inspire any stories. Each artist is inspired by something different, but we're all projecting these inspirations into this dismal, if high-tech future morass. Some authors bring hope and light into it, while others shine that light upon the gritty reality of a dystopia. Both have a place in the Foreshadows universe.
For my own part, I definitely like to draw on a bit of mythology and older literature—gargoyles, the Golem, even Greek monsters. I'll also be writing some Webshadows myself at some point, and probably will rope in Brian W. Matthews to help me with it. Again.
10. What else about your book might pique the interest of readers?
The illustration! Foreshadows has been multimedia from the start, and that means visual appeal, too. While you can get the book+soundtrack in digital form, the physical book and CD are all-around beautiful to look at and hold. The cover art was produced by Michael Komarck, one of today's leading fantasy artists, and the twenty drawings inside the book were all made by Talon Dunning, a superlative illustrator and the nicest Southern boy I know. We've got some newer artists on the way with Webshadows, too.
Cover art by Michael Komarck
Oh yeah, and one more thing: once we get the first few Webshadows installments out the door, we'll open it up to more and more writers, musicians, and illustrators, possibly even as an open call. Keep an eye out.
Who's Next?
And now for my recommendations. People whose writings you need to be more familiar with because the world is a little bit darker without them.
Look for these guys' next big things soon!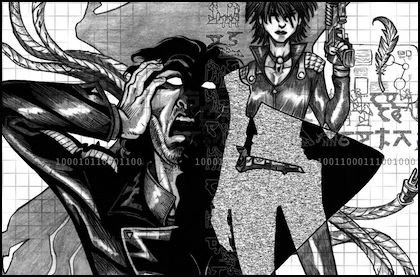 Art from Foreshadows: The Ghosts of Zero by Talon Dunning
posted on 12.13.2012