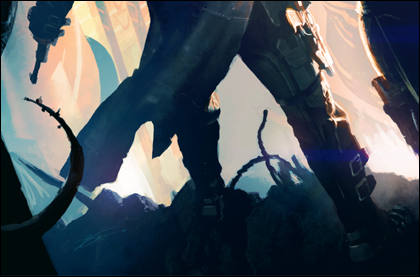 First, click the Play button below and have a listen to a new sneak peek from Foreshadows: The Ghosts of Zero soundtrack. (Preferably with some good speakers! And incidentally, the louder the better.)
This one's from musician and Foreshadows puppetmaster Bilian, "All the Good Things You Are."
Let me give you an editorial update. Things are still moving behind the scenes and we hope to have our release date to announce soon. Yes, I've been saying that for quite some time, but we'd rather defer the announcement than to make one we can't commit to. Soon. Soon. We're making damned sure this compact anthology+soundtrack is going to be the best album, and best collection of science fiction, you pick up this year.
This, by the way, is the final story and track listing.
01 Geist Anthropic 1:4
02 Too Much Is Never Enough
03 Cenotaph, or We've Been Reduced to Lo-Fi
04 Graveduggery
05 Love Simulacra
06 Cold as the Gun
07 ...And Weave The Spider's Web
08 Geist Threnodic 2:4
09 Best Served Flash-Frozen
10 Geist Eidetic 3:4
11 All the Good Things You Are
12 Twenty-One-Oh
13 Made in Brazil | Living in Japan
14 Crossed Swords
15 Geist Intrinsic 4:4
16 Anodyne Fading: The Wolf Without
17 Lament
18 Deep in the Deep: Reaction-Diffusion Dies Tonight
19 Unto The Interface
Meanwhile, we've been sending around the title pages of the special, Limited Edition copies of the anthology across the globe, and our authors and musicians have been gracious enough to send in photos and videos of the signings. You really should check them out...
See author Robert Velarde flaunt his cybernetic new leg; witness the brooding gray daylight, such as it is, of dystopian Seattle where Rosemary Jones lives; get a rare glimpse inside Ed Greenwood's home in rural Canada; check out Jaleigh Johnson's badass high-tech hardware; analyze the mesmerizing wallpaper inside the home of musician Alan Norman; cower at the eerie gloom of writer Brian W. Matthew's window-shuttered house; marvel at musician Michael Triggs's duct-taped paradise! And more!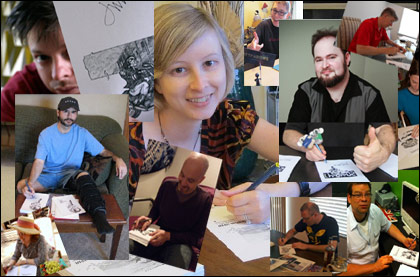 And if you don't scope this stuff out, in the very least you have to see musician Dylan Leed's video. Seriously.
posted on 06.27.2011