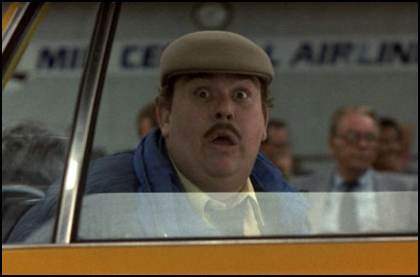 As I only hinted at last year at this time, Planes, Trains and Automobiles is arguably the best comedy ever. Certainly it's John Hugh's finest. And I say that despite tbhe awesomeness of Jeffrey Jones's portrayal of Ed Rooney in Ferris Bueller's Day Off.
Planes is the heart-warming, side-splitting story of an uptight businessman (Steve Martin) trying against the odds to get home to his family in Chicago† in time for Thanksgiving. And in the bustle, his fate is entangled with an irrepressible traveling salesman (John Candy). Steve Martin's always amusing and the immortal John Candy has a slew of hilarious movies, but in Planes the combo of the two is without equal.
Click the Play button to listen to a medley of songs and sound clips from the movie. (And thanks go to Joe R. for getting me the music in the first place)
Will you ever find a movie more suitable for Thanksgiving? Let's just say you'd have better luck selling dental floss at a Willie Nelson concert.
† Speaking of Chicago, because he knows a thing or two about recording music friend Josh Wentz has become the Chicago Home Recording Examiner. Subscribe today!
And have a happy Thanksgiving.
posted on 11.24.2009