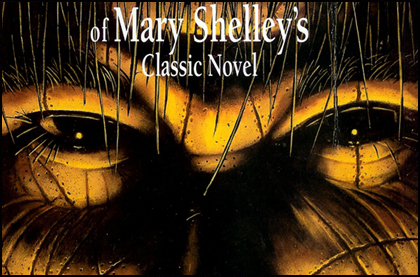 I've recently resolved to read the classic works of horror, at least one each year, and always in October. I honestly can't remember what it was last year. I've already read Dracula, though I'm up for a re-reading.
But this year it was Frankenstein. I've long eyed the book and known I had to read it...but I just never got around to it. I always suspected it was something more—and perhaps in some ways less—than the clumsy giant depicted by Boris Karloff in the old 1931 film.
Well, no more. I finally read it. Anyone who's read The Darkwood Mask probably won't be surprised that I loved Mary Shelley's Frankenstein.
In particular, The Essential Frankenstein (The Definitive, Annotated Edition of Mary Shelley's Classic Novel), and I think it made all the difference. I learned a great deal about Mary Shelley, the time she lived in, and the opinions of many famous authors through this book.
So then I went and gushed about it on Examiner.com in the form of this article: Classic Halloween monsters in fiction: Frankenstein's monster
Long as my article is, it feels rather truncated. There's a lot more to say about the story, such as Shelley's many descriptions of the settings: Geneva (Switzerland), where the Frankensteins are from; Ingolstadt (Germany), where Victor went to university and made his Creature; Scotland, where on an island he made the female creature; and the Arctic Circle, where Victor pursues the Creature and the story comes to a slightly ambiguous end. The constant contrast of bitter emotion and frigid climates (the "mountains of ice") makes the story all the more dramatic.
So, like, consider picking this book up someday. Get an annotated version, if you can.
posted on 10.28.2009