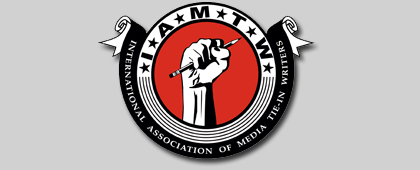 Not so long ago I joined the IAMTW (The International Association of Media Tie-In Writers). From their website: "We write science fiction, westerns, mysteries, romance and thrillers and sometimes all of the above. Our work embraces just about every genre you can think of, from STAR TREK to CSI, from GUNSMOKE to MURDER SHE WROTE, from DUNE to James Bond, from RESIDENT EVIL to Lizzie McGuire...Our books are original tie-in novels, comic books and short stories based on existing characters from movies, TV series, books, games, and cartoons... or they are novelizations (books based on screenplays for movies and TV shows)."
Publishing a novel set within a shared world (Eberron) qualified me for membership. The real purpose of the association is to proudly state what we are: writers of tie-in fiction. See, literature based on movies, TV shows, comic books, or other existing "tie-in" works usually don't get a lot of respectability...at least not in the larger world of books, or even just fiction.
Now, perhaps less than a year later, I've just learned that my first novel, The Darkwood Mask, was nominated for a Scribe Award in the category of Special Gaming Scribe - Best Adapted (I didn't even know that was a category!).
Last year the winner was Night of the Long Shadows, by Paul Crilley, book #2 in the same stand-alone series as mine. How cool would it be for another Inquisitives book to take the win? That said, I'm up against a DragonLance novel, another Eberron book (Don Bassingthwaite's...yikes!), and a Warhammer book.
It'll be a few months before the winners are declared.
posted on 03.27.2009