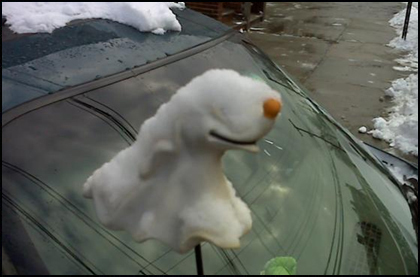 There hasn't been much to report on lately. Today some pretty momentous things are going on in our nation's capital, and I think it's pretty cool. But I'm sure thousands of weblogs will be talking about that sufficiently.
The first month of '09 has been a bit underwhelming for me, but that's not to say it hasn't been busy. In fact, I've been multitasking like you wouldn't believe: job hunting, sourcebook writing (more on my RPG front when the specifics are public knowledge), novel brainstorming, snow shoveling...all while holding down the fort and trying to be economical.
Well, this isn't all very interesting to hear about.

I'm obviously a big fan of this season (nothing brightens a withered grey landscape like a blanket of white), but I will admit there sure has been a lot of snow lately in the New York City area. Every morning I shrug off a mantle of slush, snow, or ice, flex my wings, and watch, bemused, at the outcry of the city folk below who long for the scorching breath of August.
Say, I wonder if gargoyles will have a place in the aforementioned novel. We were involved in the first one. Why stop a good thing?
posted on 01.19.2009