GenCon is difficult to recount in full.
In some respects, this year's was disappointing. In others, not at all. Now, the positive outweighs the negative. Certainly my primary complaint about GenCon (and this is universal) is that I cannot do all that I want to do. Every year I try to mix it up: game a little, meet with people I don't get to see any other time of the year, network, see the showroom floor in its entirety, and attend cool seminars. If you do this, you don't see half of what you really intended to.
As a rule, I try not to put up any pictures on this website of people without their permission. I'm big on that. So if you see someone's face on here, it's because I either asked them first (like my wife) or I just know that they're okay with it (like my brother). That said, here's a few images from this year's GenCon.
Rather than try to chronicle the whole event, here's just a few highlights: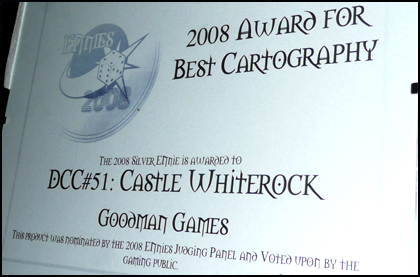 Goodman Games wins a Silver ENnie for Best Cartography for the product Castle Whiterock. Woo-hoo! Go Jeremy and Joseph!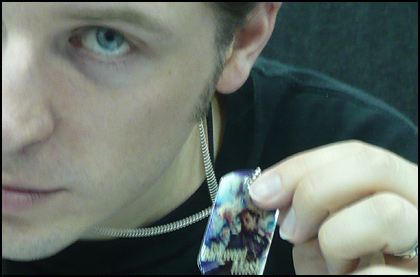 Twice I got to sit with Keith Baker (and some other authors, only half of whom I knew) for a book signing. Which really just means I got to sit and talk with him a bit. Regardless of the slowness of that event, I had fun. It was just cool to be there.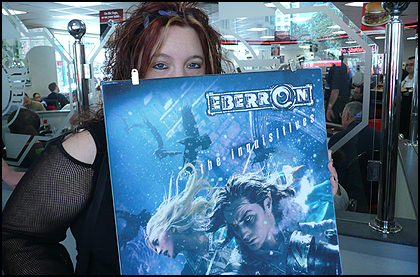 Marisa, as always, likes to help promote. She'd be an awesome agent. If she had her way, she'd have tried to dress up as Charoth himself (mask, robe, and all) and hand out copies of my book to people, to get them interested.
We (my brother and Marisa) were invited to join in an Eberron game along with Ari Marmell, his wife, and Keith Baker. CA Suleiman was our DM. It's a little daunting roleplaying in Stormreach with two of the guys who wrote the book on the subject. Marisa actually made coconut brownies and brought Mountain Dew to round out the archtypical gaming session. We had fun hunting down the right miniatures to use for the game. We actually managed to locate a female dwarf mini (rare).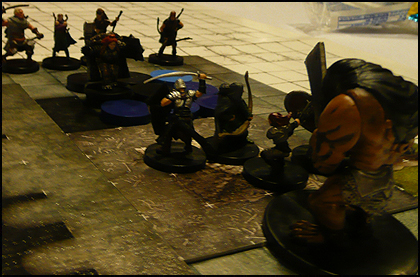 The intrepid heroes enter a cave where some sort of undead ogre hacks limbs from corpses. Yeah, some of those corpses rose up to fight.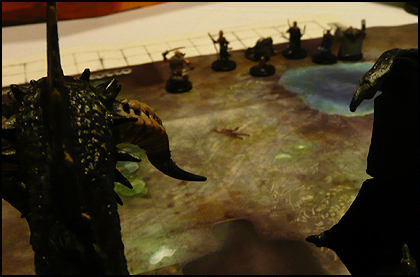 Soon after, we encounter a massive shadow dragon, parley with her for a bit, then battle her drow "servants" to provide her with entertainment (and so she wouldn't kill us).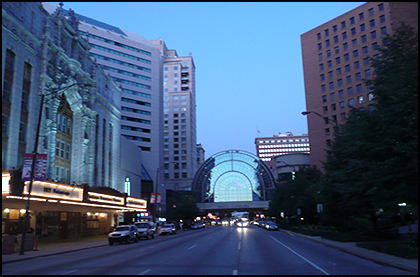 It rained only on one day, and was all-around lovely outside for August. It was still too hot for me. Indianapolis at night is actually quite picturesque.
Marisa in the Garden of GenConsemane.
There are always Storm Troopers about. But John managed to encounter these two.
I got to briefly meet a few people, including Paul Kemp (second time), Erik Scott de Bie, Jaleigh Johnson, and my usual friends Ed Gentry, Harley Stroh, Ken Hart, and Adrian Pommier. And of course, it was good seeing Keith Baker, CA Suleiman, and Ari Marmell again. But all of this is never enough. And I certainly would have liked Mike Furgeson and Marcy Rockwell to have attended. Next year, guys? I know it's hard. For me, too.
posted on 08.20.2008