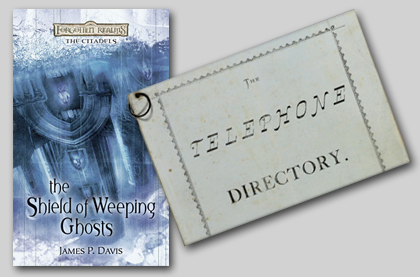 Just a couple of unrelated things I wanted to mention as I take a very short break from writing:
- I recently picked up James P. Davis's latest novel, The Shield of Weeping Ghosts. (Book 1 of this series of stand-alone novels is Ed Gentry's Neversfall.) This is an intriguing book. I'm only a couple chapters in so far, but it's a pretty cool mix of genres within an otherwise high fantasy setting. It's sort of like a ghost story (a city continually haunted by screaming ghosts) mixed with Beowulf (long-haired berserkers and masked witches) and lots of exotic cultural flavor atypical for most Forgotten Realms books.
- I have an RSS feed for Discovery News, and today's article was World's First Telephone Book Surfaces, wherein the very first telephone "how to" manual from 1878 is up for auction. It's an amusing read and a short history lesson, too. Check it out. My favorite parts are the direct quotes from the manual:
"Should you wish to speak to another subscriber you should commence the conversation by saying, 'Hulloa!'"
"Never take the telephone off the hook unless you wish to use it...When you are done talking say, 'That is all,' and the person spoken to should say, 'O.K.'"
And also, it warns never to "use the wire more than three minutes at a time, or more than twice an hour" without first "obtaining permission from the main office."
Ahh! Alexander Graham Bell! I bet you never saw things like this coming!
posted on 05.29.2008