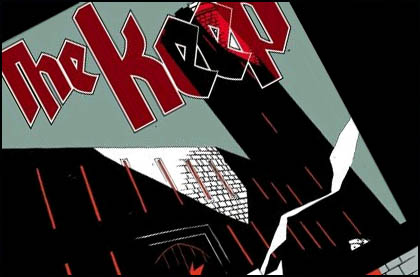 I feel anxious and floundering if I don't have a good book to read at any given time. Taking my subway commute through the bowels of NYC each day to and from work would be near unbearable without something to occupy my mind as only a novel can.
I just finished reading F. Paul Wilson's The Keep, and I will recommend it to anyone who've ever enjoyed even a single horror novel. It was written in the early 80s and somehow that shows, but it's still a very fresh story and a very cool twist on traditional vampire folklore (none of that Buffy nonsense).
The setup: It is WWII and a contingent of Germans have been ordered to take command of a seemingly empty keep in the Carpathian Mountains. Two officers, each with a squad of soldiers beneath him. One squad are Nazis, the other are not. Then something starts killing the soldiers, one man per night. Add in a couple of Jews whose help they need (and demand), a mysterious newcomer, and very freaky antagonist, and you've got a good book. It's so much more than horror; you get to get into the head of a Nazi officer, a German officer who does not like Hitler and the movement overtaking his country, and the Jews who fear them.
Only now that I'm finished with it have I learned that there's a cult movie made after the book that evidently is pretty bad (yet with an all-star cast). Huh. I'd like to track that thing down.
posted on 05.24.2007